Vegan Shops in Budapest – You Don't Have to Go Far!
In Budapest you don't have to venture far anymore to find vegan shopping opportunities with countless food products without animal ingredients. From bulk shops with many vegan products to regular vegan markets, you will find everything you need.
Veganism becoming a more and more widespread eating habit has many advantages. On the one hand it is good for the environment. By now there are countless scientific studies which prove that cutting out animal products from our diets would take a significant burden off the planet's shoulders. But a vegan diet, especially one that focuses on nutrient rich whole foods, can also maintain and even improve one's health.
And the fact that more and more people are choosing a vegan diet brings another advantage: as demand changes, so does supply. More and more stores offering vegan food are popping up all over Budapest. There are permanent shops among them that we can always count on, as well as pop-up markets that always enrich our days with variety – and plenty of delicacies.
Veganism Is More Than a Diet
We often refer to it as a vegan diet, but veganism is about more than just eating habits. In the eyes of its proponents, veganism is a form of ethical lifestyle with which you can support the rights of the animal, protect the planet, protect your physical health, and do something for a more liveable future. 
The foundation for all this is to cut out all animal products from one's life, be it food or clothes. It even affects cosmetics, which often  animal products like beeswax or glycerine, which can come from animals are used or which are tested on animals. Also these so-called cruelty free cosmetic products are gaining popularity and an increasing number of big companies are trying to make the switch to ethical cosmetics.
All these points explain why someone would want to follow a vegan lifestyle: It can be a way to live with our natural environment, from which everything and everyone can only benefit. And as the movement becomes more successful, there is a need for more and more vegan restaurants and shops in developed cities. Thus, for example, vegan shops and markets are increasingly taking off in Budapest. Let's look at some of them!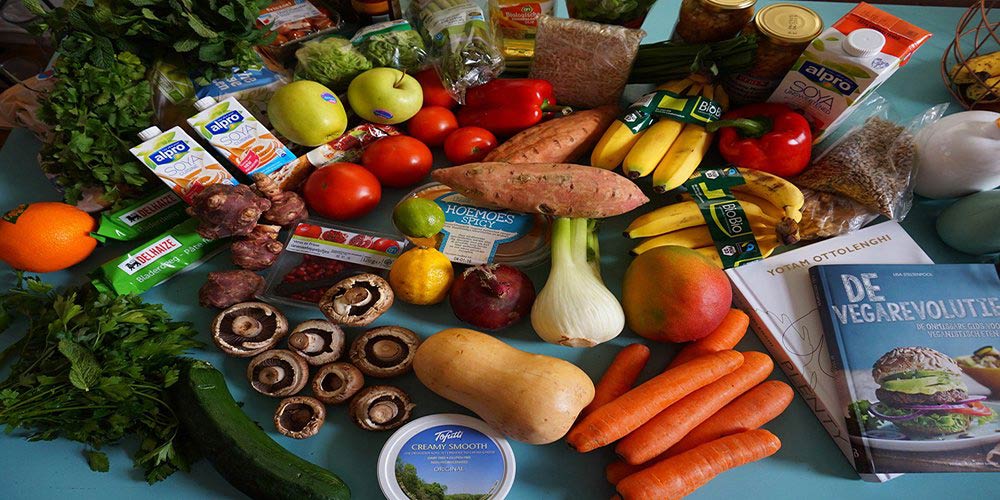 Vegan Shops in Budapest
Bulkshop – All the Whole Food Staples You Need
The vegan-friendly Bulkshop has three locations in Budapest in the districts IX., XI. and XIII. And not only can you easily find an outlet in your part of the city, but you will also be spoiled with choice! Seeds, nuts and legumes, staples like alternative flours and oils, exotic spices, snack and special drinks are all on offer – just to give you a taste of it.
As if that was not enough, their stores are also waiting with canned and frozen foods for you, that you definitely won't get in a simple grocery store! Additionally they sell a number of household items like cleaning products, cosmetics and toiletries. 
Vegan Foods Market – Order Online or Visit The Webshop
The name gives it away already… Those who follow a plant-based diet can find countless ingredients and foods here that are a pleasure for the eyes and the taste buds. From basics, such as tofu or various grains, to speciality products like pâtés, sauces and creams, you can find everything you need and more.  But both in their shop in the 9th district and in their webshop, you can also get supplements that are essential for many following a vegan lifestyle, such as rice and hemp seed proteins, spirulina tablets, or even bud drops.
Vegan Sunday Market – Fun for the Whole Family
To those who lead a vegan lifestyle, or at least flirt with the idea of ​​becoming a vegan, the Vegan Sunday Market is well known. Just like so many other events, VSM's plans were derailed in 2020, but now they're coming back to recharge your recently depleted stocks!
So what exactly awaits you at Westend Millennium Roof Garden? In addition to the family- and dog-friendly atmosphere, a range of mouth-watering products! There will be vegan cheese specialties, sauces, snacks such as candies and fruit slices, spreads, tangled delicacies and of course food that you can eat right there! And all this, of course, exclusively with vegan ingredients!
But as always, they don't just think about our tummy! There will be a range of products on offer, such as artisanal soaps, creams and toiletries, and zero waste products, in case you'd like to protect our planet even more.
How to Start Being Vegan…
For those who are just planning to switch to veganism for the time being, but still feel they don't have enough background knowledge or just don't know how to get started, we have some tips!
Before you shop for a range of ingredients at the vegan stores in Budapest mentioned above and start experimenting, you may want to visit some vegan restaurants in Budapest. Once you've tasted well-prepared, delicious vegan food, you will want to replicate that in your own cooking! Fortunately, there are already countless places in town where divine plant-based dishes are offered, such as Las Vegan's, Sunny Restaurant, Cosmos Restaurant or Vegan Love.
And as a plus, we could give you a few books to read, or do an online vegan quick-start to get a comprehensive picture of this whole movement and start on the path of change with confidence. Fortunately, there will soon be an online Zoom lecture on the subject, where a professional chef will help you learn more about the basics of vegan cooking.
For more info about living a healthy lifestyle in Budapest and the best yoga studios in Budapest follow us on Facebook!