Power Yoga: All you need to know
Power yoga focuses on physical strength, fitness and stretching. It combines cardio exercise with asanas, from where it derives its name. Let's dive deeper into its characteristics and origins!
Power yoga focuses on building strength and endurance. Yoga philosophies are not necessarily an important part of it, but the asanas, the physical aspect of yoga and to get your heart pumping are an essential part of it.  
The term power yoga is sometimes used interchangeably with Vinyasa yoga. But it is probably more accurate to say that power yoga is a form of Vinyasa that has its roots in Ashtanga yoga, a common practice that dates back to the early 20th century.
Power yoga focuses on the flow from one pose to another. Rather than holding each pose separately, the flow is more important. The poses are not separated from each other, unlike in some other forms of yoga. No matter what you call it, power yoga is a fast paced and intense activity. A fast form of movement that moves from one position to another, combining breathing with the various movements of our body.
The Origins of Power Yoga
There are two names associated with the birth of power yoga, which came into being in the late 1980s, and they are Beryl Bender Birch and Bryan Kest.
Beryl, who wrote the book Power Yoga, practiced and taught Ashtanga yoga in New York . She noticed that runners and athletes have such tense muscles that they are unable to do various yoga poses. 
She modified Ashtanga yoga to meet people where they are and called this "stretching and strengthening for athletes". "I thought it was a fantastic exercise for athletes. It does not stretch to warm up for running, cycling or tennis… you need to sweat. "
They even tried the name for "Yoga for Athletes" for this new type of yoga before finally coming up with the winner, "Power Yoga".
Beryl said in an interview:
"Power yoga was simply a name, the name I coined in the late 80s to let people know that this ashtanga yoga practice – unlike most of the yoga taught in the 70s – was a serious workout…
I couldn't trademark it, although I tried. Byran Kest tried… Somehow we both figured out the name at the same time. He was on the west coast; and I was on the east coast… Baron (Baptise) got the name from me. It was named and trademarked Power Yoga."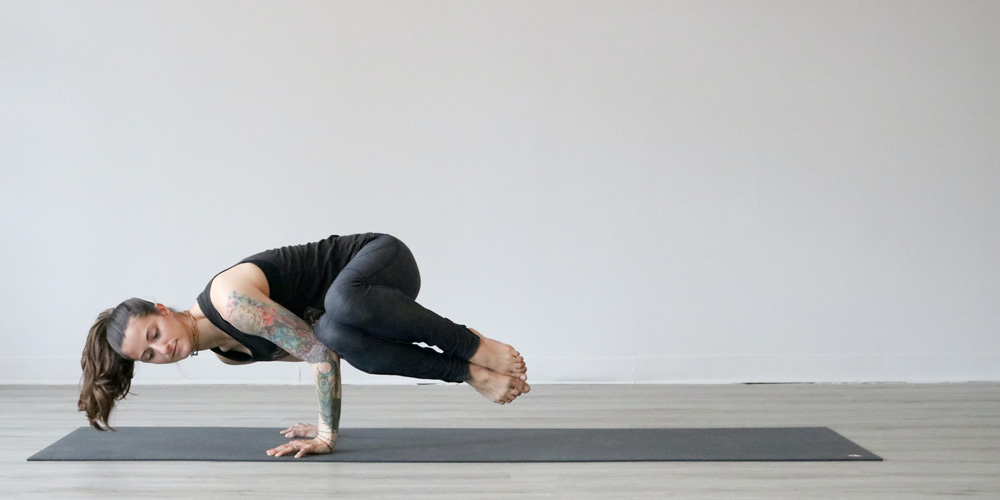 Power Yoga in Key Points
Initially, Power Yoga was a modified Ashtanga yoga practice.

The focus was on "serious training," not just stretching.

It was oriented towards athletes.

Power yoga became "anything and everything".
Ashtanga Yoga vs. Power Yoga
Ashtanga yoga consists of a fixed order of exercises. Practitioners do the same asanas, the same breathing connected to movement every time. There are a total of six series, between each of which a break is required. There is a lot of movement in Ashtanga yoga and you need to have great flexibility for many postures.
In order for Ashtanga yoga to be suitable for everybody, a lot of things had to be changed. 
Bryan Kest came up with the name Power Yoga at the same time. Like Beryl, Bryan is in Santa Monica, California, trying to figure out how to make yoga available to more people. Instead of athletic names, Bryan thought of terms like "grandma yoga" because "I wanted grandmothers to feel welcome in class".
The Health Benefits
Fans of power yoga say that it enhances stamina, flexibility, posture and mental focus. Like all physical activity, it relieves tension. Being strong and sweaty, it burns more calories than most yoga traditional forms and can therefore help you lose weight.
A Few Words of Caution
Before you dig into it, keep in mind that power yoga is hard work and not for everyone.
Avoid power yoga if:
You are not at least moderately fit – otherwise physically intense asanas (poses) can end up doing more harm than good.

You're pregnant. Certain asanas can cause complications during pregnancy. (Instead, try prenatal yoga classes designed for gentle and pregnant women.)

You suffer from a chronic physical illness such as diabetes or arthritis
If you have any problems, it is best to consult your healthcare provider before trying power yoga or any strenuous exercise.
You can try power yoga in the best yoga studios in Budapest ! For more news about yoga, a healthy, conscious lifestyle and yoga events in Budapest follow YogaYogi on Facebook.